Heat Pump Integrated Units
Heat Pump Integrated Units

Uses: Cold and heat source for central air-conditioning
The Range of Refrigeration:
Refrigeration:100KW-200KW
Heating: 90kW-1800kW
Features:
Integrated design, easy to install and save space.
Outdoor installation, no need to set up the machine room separately.
Evaporative condenser for good heat transfer
High efficiency and energy saving, more than 30% energy saving compared with traditional air-cooled heat pump units.
Application:

Overview:
---
Functions:Cooling, Heating

Uses:Cold and heat source for central air-conditioning; Single unit for air conditioning area:300-2500㎡
The Range of Refrigeration : Refrigeration:100KW-200KW Heating: 90kW-1800kW
Features:
Integrated design, easy to install and save space.

Outdoor installation, no need to set up the machine room separately.

Evaporative condenser for good heat transfer

High efficiency and energy saving, more than 30% energy saving compared with traditional air-cooled heat pump units.
Application:
Can be widely used in shopping malls, hotels, office buildings, stadiums, restaurants, theaters and other places
---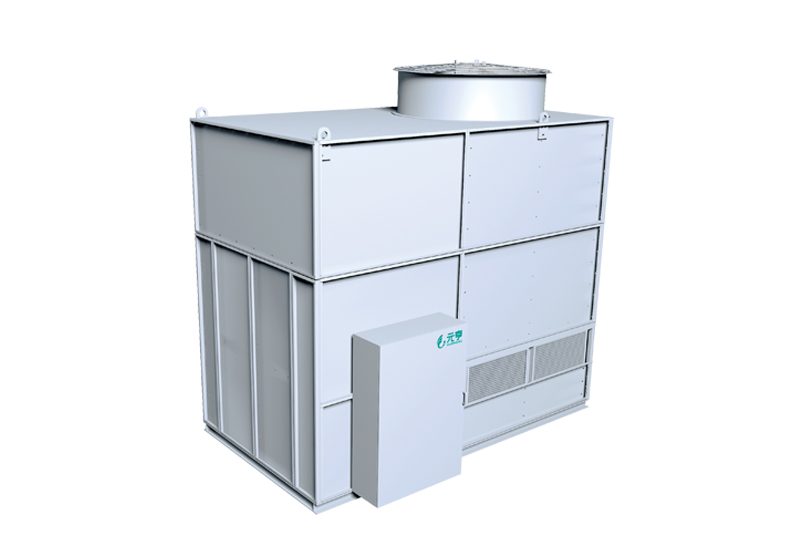 Cooling Principle
---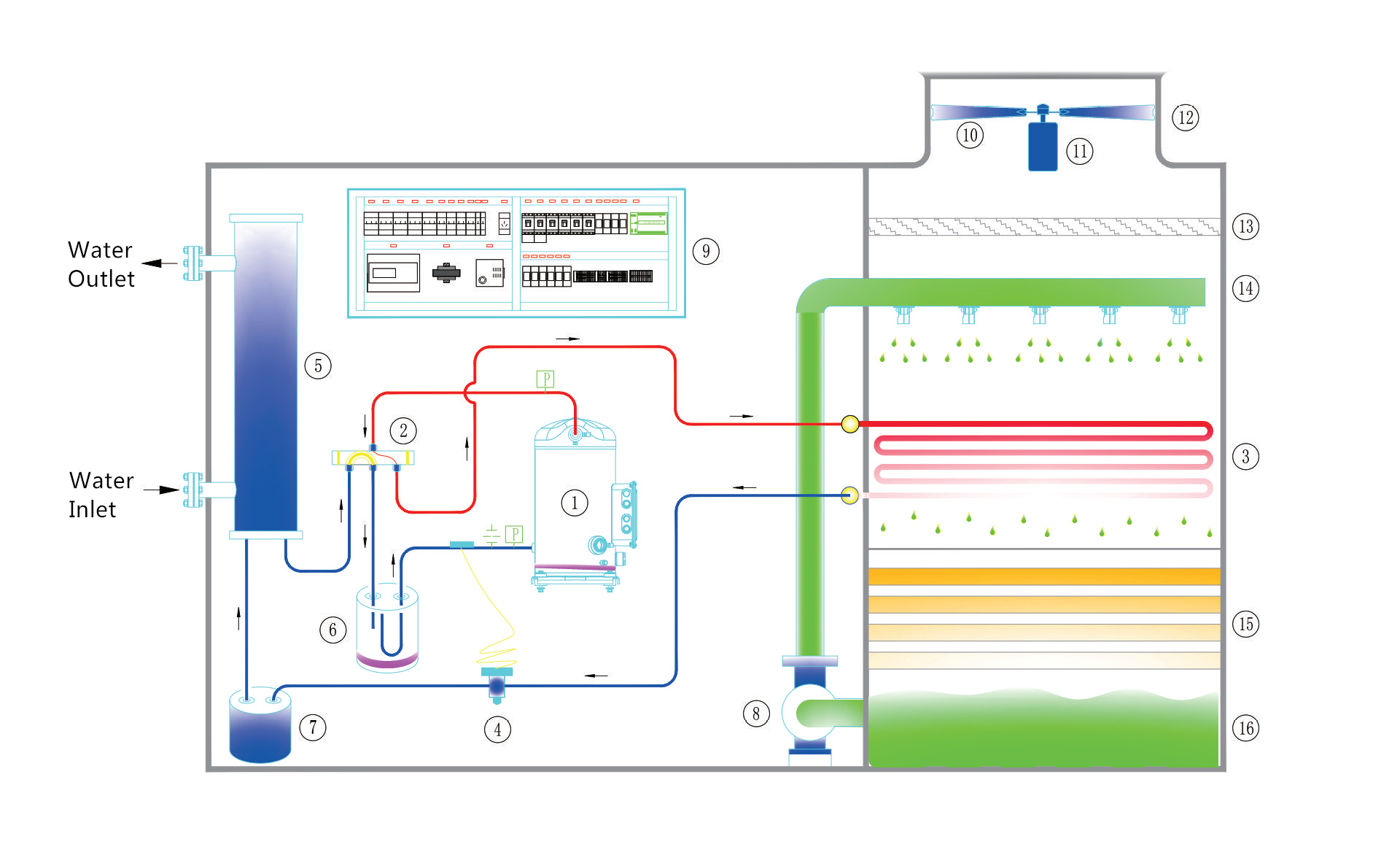 Heating Principle
---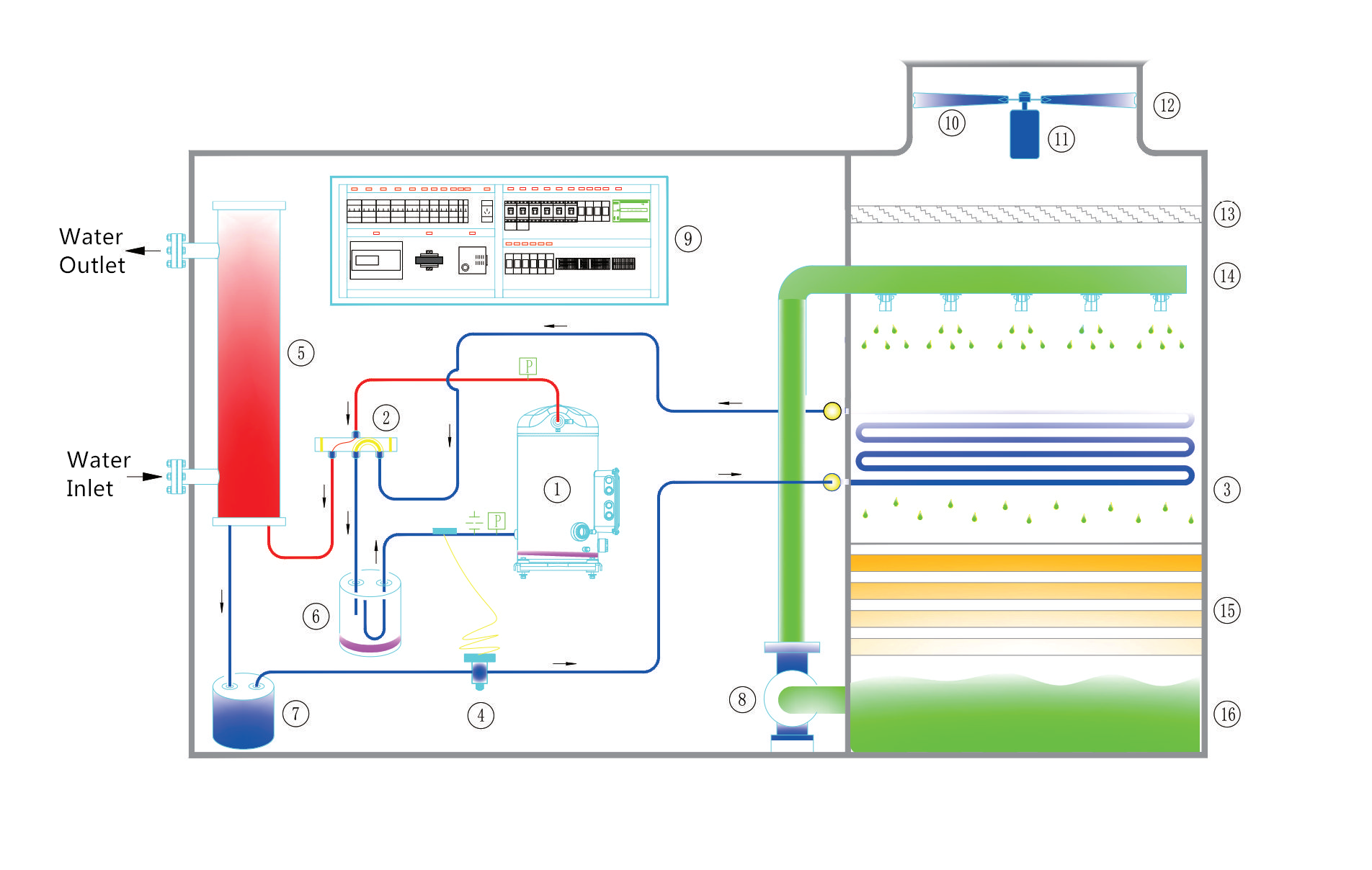 No. in the drawing indicates:
1.Compressor 2.Four-way reversing valve 3.Evaporative condenser 4.Expansion valve
5.High efficiency shell&tube heat exchanger 6.Gas-liquid separator 7.Balance tank 8.Spray pump
9.Control cabinet 10.Low noise axial fan 11.Motor 12.Fan cylinder
13.High efficiency water collector 14.Water distributor 15.Inlet grille 16.Water collection basin
---
MODEL
YH-
W100SGB
W200SGB
NOMINAL COOLING CAPACITY
kW
99.6
199.5

10

4

kcal/h

8.57
17.16
COOLING RATED POWER CONSUMPTION
kW
21
40
COOLING RATED ENERGY EFFICIENCY EER
W/W
4.74
4.94
NOMINAL HEATING CAPACITY
kW
88.5
177.5

10

4

kcal/h

7.61
15.27
HEATING RATED POWER CONSUMPTION
kW
27
51
HEATING RATED ENERGY EFFICIENCY COP
W/W
3.28
3.48
ELECTRIC AUXILIARY HEAT (OPTIONAL)
kW
20
30
POWER SUPPLY
—
380V/3N,50HZ
COMPRESSOR
TYPE
—
FULLY ENCLOSED SCROLL COMPRESSOR
QTY
—
2
2
CONTROL SYSTEM
—
7"TFT FULL AUTO-CONTROL
WATER HEAT EXCHANGER
TYPE
—
SHELL -AND-TUBE HEAT EXCHANGER
WATER FLOW

m

3

/h

17.2
35
PRESSURE LOSS
kPa
≤80
≤80
IN/OUT PIPE DIAMETER
mm(DN)
50
80
STANDARD PRESSURE
MPa
1
1
WIND HEAT EXCHANGER
TYPE
—
Finned heat exchanger + spray water system (evaporative condenser)
SPRAY AMOUNT

m

3

/h

25
50
FAN TYPE
—
Low noise axial fan
FAN QTY
台
1
1

JOINT

PIPE

DIAMETER

OVERFLOW
mm(DN)
32
32
MAKE-UP
mm(DN)
25
25
DRAIN
mm(DN)
25
25
REFRIGERANT
MODEL
—
Environmentally friendly refrigerant R410a
THROTTLING METHOD
—
Thermal expansion valve
CHARGE
kg
30
50
UNIT WEIGHT
SHIPMENT WEIGHT
kg
1900
2800
OPERATION WEIGHT
kg
3000
3800
DIMENSIONS
LENGTH
mm
3000
3700
WIDTH
mm
1680
2430
HEIGHT
mm
2700
2900
NOISE
—
dB
65
67
SAFETY EQUIPMENNT
High and low pressure protection, water cut protection, low water tempreture protection, motor overload protection, overheat protection, temperature protection, oil level protection, phase loss and phase sequence protection.
Technical parameter description:
1. Standard working conditions:
Cooling: inlet/outlet temperature 12/7°C, outdoor dry bulb temperature 35°C, wet bulb 28°C

Heating: inlet/outlet temperature 40/45 °C, outdoor dry/wet bulb temperature 7/6 °C.
2. For cooling only type, there is no heating parameter.
3. Yuanheng can customize the size of intergrated unit according to the user's needs for the reason of venue or styling. Contact us directly for customize.
---
Program's advantages and characteristics
---
High efficiency and energy saving:
Water-cooled in the heat of summer with energy efficiency of 5.0 , saving more than 40% energy compared with conventional air-cooled air conditioning (air-cooled heat pump, VRV multi-connection);

Water-cooled with air-cooled in the dead of winter with energy efficiency of 3.5 saving more than 30% energy compared with traditional air-cooled heat pump units.
Low total investment:
The integrated unit can minimize the installation work by adopting evaporative condenser, integrates the shell-and-tube condenser, cooling tower, circulating pool and circulating water pump, the total investment is lower than the total cost of other condensation methods.
More qualified design:
The integrated unit is built with ultra-thickness whole hot-dip galvanizing process, double-layer heat-insulating outer casing,and corrosion-proof materials panels for reliability in severe operating environments.

Maintenance-free, low power use,leading to low operating costs

The compressor can realize multi-stage or stepless energy regulation; the fully enclosed scroll refrigeration compressor has the advantages of high efficiency, low noise, low vibration, reliable operation and long service life.

It is equipped with 7'' microcomputer LCD control panel, which has powerful functions such as security protection, communication, fault judgment and automatic adaptation.

The shell-and-tube evaporator made by internal thread high-efficiency copper tube, combined with the unique and optimized design, created excellent heat exchange effect, reliable oil return and easy maintenance features.

The evaporative condenser applies an elliptical coil, increasing the surface of the coil tube and enhances the air and water flow outside the spacer coil, thus improves the heat exchange efficiency.

Water consumption rate is low, corrosion resistance, small floor space, convenient maintenance and installation.

COMPRESSOR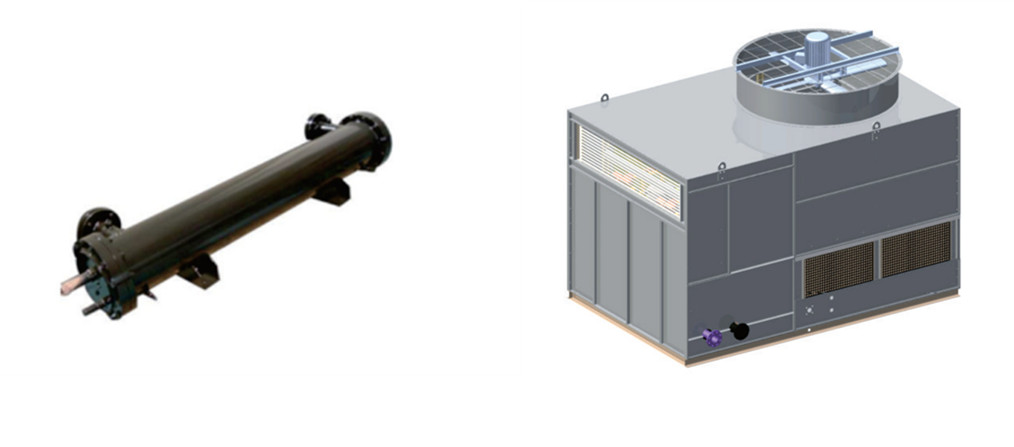 SHELL-AND-TUBE EVAPORATOR EVAPORATIVE CONDENSER

---
Economical comparison with conventional air-cooled air conditioners (air-cooled heat pumps/VRV systems)
--
Equipment type
Integrated heat pump unit
Modular air-cooled heat pump system
(Refer to McQuay products)
1
Cold source host
200KW×1UNIT
65KW×3UNITS
2
Refrigeration
cooling capacity
KW
200
195
Input power
KW
40
57.6
Refrigeration operation fee
YUAN/DAY
480
691.2
Total cooling operation fee
YUAN
76800
110600
3
Total operating expenses (host)
YUAN
76800
110600
ENERGY SAVE RATIO
44%
4
REMARKS
1.Daily average operating expenses=Input power×12h/DAY
2.Total cooling/Heating operation fee =Daily average operating expenses*days,summer running day count as 160 days
3.POWER PRICE:1YUAN/KW*h
Contact us for more information,Yuanheng will provide you the most cost-effective solutions.
---